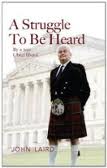 The former Chair of the Ulster Scots Agency has stepped aside as the Ulster Unionist Chief Whip.
Lord Laird of Artigarvan and two British Labour peers deny breaking any rules after the Sunday Times implicated them in a lobbying scandal. Lord laird was also been filmed by the BBC Panorama programme and the Daily Telegraph appearing to agree to lobby for a company in exchange for a retainer.
Lord Laird had intended running in both Donegal constituencies on an Ulster Scots ticket in the 2007 election, but did not do so as a result of illness.
Labour peers Lords Cunningham and Mackenzie - who are accused of offering access for cash - have been suspended from their party.
All three deny any wrongdoing.
Former Chairman of the Committee on Standards in Public Life, Sir Alistair Graham, says the allegations are worrying..............
[podcast]http://www.highlandradio.com/wp-content/uploads/2013/06/laird6.mp3[/podcast]