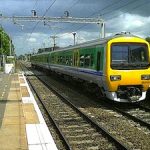 A Stormont document on the future of rail services has revealed an ambitious £1bn plan to link Derry to Sligo.
A railway line from Derry to Sligo, going through Letterkenny and Donegal Town is listed as an option in the Department for Regional Development's Future Railway Investment Consultation paper.
A rail link between Derry and Letterkenny would cost £242m; £506m to Donegal town and £924m to Sligo.
But some econimists have described the Sligo link and others to Donegal and Letterkenny as a pipe dream.
Spokesperson for the rail lobby group Into the West, Eamon McCann says it's a realistic proposal:
[podcast]http://www.highlandradio.com/wp-content/uploads/2013/05/eam1pm.mp3[/podcast]