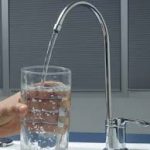 A Donegal County Councillor has warned that the county's water piping network will fall to pieces when the work of installing water metres begins in earnest.
Councillor Patrick McGowan was speaking in the case of Siobhan Kelly  - Ms Kelly says that her family have regularly been left without drinking water over the past six years with her water supply turning an orangey brown colour at least once a month.
Councillor McGowan was however unable to offer much hope, he has pointed out that a funding application to upgrade piping in the Lifford area was submitted in 2011 - but no funding has been forthcoming.
He has predicted that the situation will get worse when water metres are being installed:
[podcast]http://www.highlandradio.com/wp-content/uploads/2013/05/pat530WATER.mp3[/podcast]