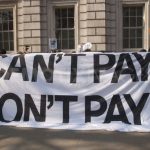 Today is the deadline for receipt of Property Tax returns by post.
Householders who have not already sent their completed applications - have three more weeks to register online.
People who do not file by May 28th - will have the Revenue Commissioners estimate deducted from their salary, bank account or social welfare payments.
Cant Pay Wont Pay spokesperson, Michael Colm Mac Giolla Easbuig is still urging people not to pay:
[podcast]http://www.highlandradio.com/wp-content/uploads/2013/05/cpwp1pm.mp3[/podcast]