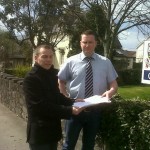 A Buncrana councillor says a joint effort to upgrade the Aghilly Road in the town could be the key to securing a site for a new education campus for Crana College.
The Donegal VEC had looked at a site in the vicinity of the road, but serious concerns were expressed about the standard of the road surface.
Now, however, Cllr Ciaran Mc Laughlin says the VEC's Chief Excecutive Shaun Purcell has agreed to re-visit the Aghilly site on the basis that an upgrade of the road could be co-funded by the town and county Councils, along with the Department of Education and Skills.
This week, Cllr Mc Laughlin delivered a petition to Buncrana Town Council officials after canvassing five local housing estates.
He says something must be done on the Aghilly Road...............
[podcast]http://www.highlandradio.com/wp-content/uploads/2013/04/ciarn1pm1.mp3[/podcast]