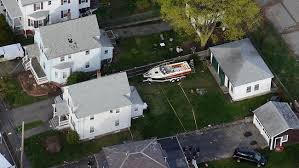 A Carrigart carpenter has been speaking of his experience after the surviving Boston bombing suspect was captured in his next door neighbour's back yard.
Brendan Toye from Carrigart was at his home in Watertown when a SWAT team knocked on his door and evacuated him, his wife Lori and his son Garvin.
This morning, he, and his uncle Cllr Noel Mc Bride, spoke on the Shaun Doherty Show..........
Full interview Part 1
[podcast]http://www.highlandradio.com/wp-content/uploads/2013/04/toye1.mp3[/podcast]
Part 2
[podcast]http://www.highlandradio.com/wp-content/uploads/2013/04/toye2.mp3[/podcast]