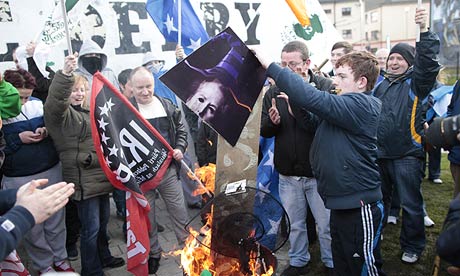 A so-called 'Margaret Thatcher party' passed off relatively peacefully at Free Derry Corner in the Bogside last night.
There was a high police presence in Derry last night, but the PSNI kept their distance from the Bogside were the protests took place.
Up to 300 people gathered at Free Derry Corner last night and burned a photograph of Margaret Thatcher, on cardboard in the shape of a coffin lid.
Portions of cake were distributed and some of those at the demonstration carried the Tricolour flag and the national flags of Argentina and Chile.
Throughout yesterday large numbers of PSNI officers were visible on the city streets.
The PSNI helicopter tracked the movements of the demonstrators yesterday evening as they converged on the Bogside.
There had been concerns of trouble after a series of petrol bomb attacks on the Fountain Estate since the death of Margaret Thatcher.
But last nights small protest in Derry passed off relativley peacefully.