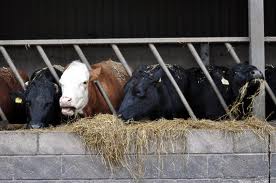 Fianna Fáil's Seanad Spokesperson on Agriculture has called for emergency measures to help Donegal farmers who are in serious difficulty as a result of the unprecedented fodder crisis.
Donegal Senator Brian O'Domhnaill has accused the Government of so far refusing to recognise the devastation in the farming sector caused by unseasonable weather over the past number of months.
The issue has been raised a number of times with Minister Simon Coveney, but Fianna Fail claim he has refused to acknowledge just how bad the situation has become.
Senator O'Domhnaill says farmers simply don't have money to buy feed and in many cases cattle are starving or dying.
He wants  the Minister to establish a hardship fund to help farmers who are in immediate difficulty:
[podcast]http://www.highlandradio.com/wp-content/uploads/2013/04/bod1pmFARMERS.mp3[/podcast]