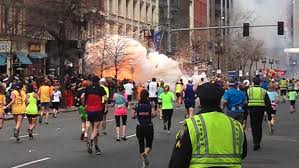 A Donegal woman who competed in the ill-fated Boston marathon has spoke of her horrifying experience.
Two days after explosives killed three people and injured more than 180 during the Boston Marathon, investigators are continuing to search for evidence.
As of yet, they don't know who carried out the Boston marathon bombings or why.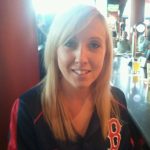 Lucinda Catterson, who is originally from Castlefin, was taking part in Monday's Boston marathon.
The 30-year-old was half a mile from the finish line when the first explosion went off.
And she says it is sheer luck that she wasn't at the finish line when the first explosion went off, "at around the 22 mile mark I injured my knee which slowed me down, and only for that reason I wasn't at the finish line at the time of detonation".
Lucinda, who has been living in Boston for the past 3 years, says that after the explosions went off the police acted quickly and had the road blocked off, "we were stopped by police on the course at the 25 and a half mile marker, just a half a mile from the finish".
"The police told us that explosions had went off at the finish line in Boylston."
The former St Colmba's College student then said a whole panic ensued, as she had a number of other friends competing in the marathon and also a number spectating.
"The authorities acted very quickly in the aftermath of the explosions, they locked down the entire back Bay Area, including stopping all trains and blocking roads."
And Lucinda said it was a very scary experience trying to contact friends, "it was horrifying trying to contact friends who were also running and who were spectators."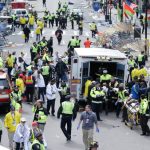 The police switched off all mobile networks soon after the explosions so those responsible could not detonate any more bombs with a mobile device. "We couldn't get in touch with anyone as the police turned off the signal to the cell towers so we couldn't make or receive calls."
Luckily Lucinda's friends were unhurt in the explosions. And the Donegal woman has praised those who came to her help in the aftermath.
She says "a man took his Boston Red Sox shirt off and wrapped it around me after the race. And a woman took us into her foyer and gave us food, water and extra clothes."
Lucinda said she could not be more thankful to the people who came to their help "these are the real Bostonians who through their strength, generosity and kindness to strangers showed that acts of cowardice by these vile murderers will never bring Boston down."