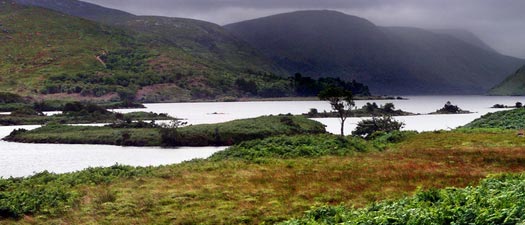 Fire crews were called out once again last night to tackle a serious gorse fire near to Glenveagh National Park.
Dense smoke and the proximity of the fire to the roadside forced Gardai and fire crews to close the road on the Termon side of Glenveagh.
Motorists travelling from Letterkenny to the Rosses and Gweedore had to divert via the N56 - traffic restrictions have now been lifted.
Five fire crews from Letterkenny Stranorlar Milford Falcarragh and Gweedore fought the blaze at Glenveagh over night to bring it under control.
Smaller gorse fires were reported at lower Loughanure and Meendernasloe yesterday while there was also a fire along the N56 near Termon.
Meanwhile, the Dungloe fire crew attended a gorse fire beside the Day Centre in Annagry village just after 2am this morning. Locals also assisted.
The exhausted fire crews from across the county have been battling night time fires every night for nearly a week now with over 100 gorse fires since April 1st.
The current dry spell is adding to the problem as the gorse and bogland remains very dry - it is hoped rain forecast for today and tomorrow may ease the threat.