A married coup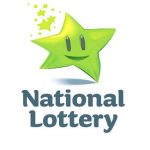 le from the Twin Towns has collected a cheque for €5,146,800 from National Lottery headquarters in Dublin.
The winning numbers from last Saturday night's draw were contained on a €4 ticket bought at Moore's Costcutters store in Ballybofey.
The couple wants to remain anonymous, but it has been confirmed they do live locally.
This is the second highest ever Lotto jackpot win in Donegal, the biggest was in January of last year last year when €5.48 million was won on a ticket bought in  Killea.
Today's winning couple, who do not wish their win to be public, say they did not get too excited when they realised their good fortune on Saturday last:
The wife bought the ticket, using long standing numbers based on family birthdays.
She said the next day, at Mass in Stranorlar, everyone was speculating about who had won the Lotto. She joined in the speculation, but didn't tell a soul.
The couple say they want to give some donations to charities, including the Simon Community in Letterkenny; the Capuchin Fathers and Fr. Peter McVerry's charity'.
The woman, who doesn't yet drive, said she would like to buy a Camper Van and travel around, adding they have only been out of the country once before.