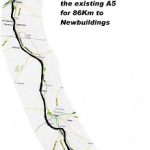 A Strabane District Cllr has hit out at the Alternative A5 Alliance.
Speaking to Highland Radio News, the Treasurer of the Alternative A5 Alliance, Hamilton Hassard said that instead of going ahead with the A5 project, the current A5 should be upgraded.
He says thousands of acres of farmland would not then have to be destroyed.
But Cllr Patsy Kelly says the idea of upgrading the current A5 isn't feasible.
And he says the new Derry - Dublin bypass must go ahead.....
[podcast][/podcast]