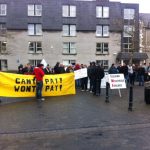 The Can't Pay Won't Pay group says the Council would be better served pursuing developers for the millions of euro in outstanding development charges rather than the public who haven't paid the household charge.
The group was responding to calls from the Council's Finance Director for people you have yet to pay the Household Charge to do so to avoid extra penalties.
Gary Martin says Revenue will collect the charge in any case alongside the new Property Tax.
But CPWP's Francis McClafferty says the council is targeting the wrong people:
[podcast]http://www.highlandradio.com/wp-content/uploads/2013/04/fran1pmCPWP.mp3[/podcast]