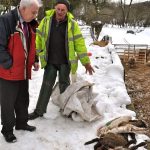 The Department of Agriculture and Rural Development in the north has indicated that farmers fromm Tyrone and Derry will be included in the compensation package for those who suffered losses in the recent old snap, however, there's been no official statement from Minister Michelle O'Neill.
West Tyrone MLA Joe Byrne says more clarity is needed, particularly on the criteria for claiming compensation and the mechanism for having it paid.
He says there's frustration among farmers who are trying to contact the department and getting no response.
Joe Byrne says it's now time for department officials to go out to the affected areas......
[podcast]http://www.highlandradio.com/wp-content/uploads/2013/04/jofri.mp3[/podcast]