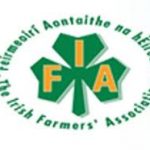 The IFA has criticised an EPA on water quality in Irish rivers, claiming it is outdated.
The report suggests there's been a drop in the number of rivers with high-quality water over the past two decades, with Donegal one of the worst performing counties.
Between 2000 and 2008, 210 rivers lost their 'high quality water' status, over 50 of them in Donegal alone.
One-off housing, field drainage, faulty septic tanks and over-grazing are identified as factors.
However, the IFA says there's been considerable investment in farm inprovements in recent years, and many of the recommendations made by the EPA have already been implemented under the Nitrates Directive and other regulations.
Harold Kingston is the IFA's Environment and Rural Affairs spokesperson...........
[podcast]http://www.highlandradio.com/wp-content/uploads/2013/04/hking1pm.mp3[/podcast]