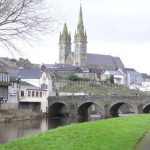 The North's Environment Minister has given the green light to a £4.5million plan to regenerate Omagh town centre regeneration project
OASIS, Omagh Accessible Shared Inclusive Space, is intended to open up a part of Omagh that was previously segregated and inaccessible.
Last October, Omagh District Council submitted planning application for the project, and today, Environment Minister Alex Attwood has announced the plans have been approved.
He says the project, which will be part funded by the EU's Peace 3 programme, will create an interlinked walk and cycle trail that has the potential to revitalise a large neutral space in to a cultural and social focal point within the town centre.
The project includes the construction of a new pedestrian bridge linked from Drumragh Avenue car park to Old Market Place, a riverside walk, exercise areas, electronic information hub, artwork panels, games tables and fishing stands.
It will also include the development of covered performance and stage area and a neutral civic space able to accommodate markets, concerts and general recreational activities partially occupying lands at Drumragh Avenue car park.
This follows planning permission three months ago for the former Scotts Mill factory site, with Alex Atwood saying both will be a positive boost for Omagh.