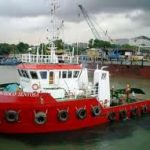 It's thought that a Spanish Freezer vessel which went adrift while trying to leave Killybegs Harbour a week ago will be towed out of the port on Monday.
The "Aldan" remains tied up in Killybegs while a deep sea tug makes its way from Gijon in Northern Spain to tow her away for repairs.
Locals claim that what could have been a major pollution incident was averted on Friday of last week, highlighting the need for a tug in the harbour.
On Friday March 22nd, the "Aldan", with 400 tonnes of fuel on board and a crew of 18, started drifting when the main engine failed about 10 minutes after casting off from the auction hall pier.
Staff of Sinbad Marine Services Ltd. who managed to bring the vessel under control using only the company pilot boat.
Killybegs has been without full-time tugs for several weeks following the announcement by Sinbad Marine that it could no longer afford to provide the service which was costing the company more than €1,000 a day.
The "Aldan" came into Killybegs under her own power last week and her engineers had spent three days attempting to deal with a fault that had developed.
Repeating calls for the government and Donegal County Council to become involved, KFO Chair Martin Howley said this shows that Killybegs cannot work without a tug service, and