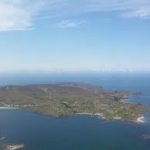 A spokesperson for fishermen on Arranmore Island says if ways are not found to boost the sector and allow inshore fishermen back on the water, the future of offshore islands may be in jeopardy.
Gerry Early was one of a number of fishermen who addressed the Oireachtas Fisheries Sub-Committee in Leinster House this week.
He says the EU has accepted that it must take action and has already made some concessions.
However, Gerry Early says the future of the islands is now at stake.........
[podcast]http://www.highlandradio.com/wp-content/uploads/2013/03/earlysat.mp3[/podcast]