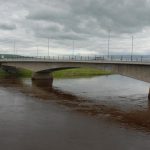 Environmental Improvement Works are getting underway in Lifford and Strabane as part of an EU funded cross border project being led by the North West Region Cross Border Group.
In a joint statement, Donegal Mayor Cllr Frank Mc Brearty and Strabane District Council Chair Cllr Thomas Kerrigan have welcomed the works.
In Lifford, pavement strengthening works will take place on Bridge Street, Butcher Street and Main Street, with footpaths being kerbed and repaved. The redevelopment and upgrading of the existing car parks will provide an additional 23 spaces to the town centre and there will also be improvements in road signage and markings and street furniture.
In Strabane, works in Railway Street, is the main route into the town centre from the Retail Parks. These works will include a Puffin Crossing; new footpath at 3 locations; under-grounding of BT overhead lines; upgrading street lighting; the provision of a lighting feature at Alley Theatre/Strabane Library and new street furniture.
Under the auspices of the cross border group, the councils in Donegal and Strabane worked closely to deliver the project, which has received almost a million euro in funding from the EU Special Programmes Body.