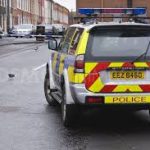 The IRSP in Derry have dismissed speculation that the INLA was responsible for a gun attack in which two brothers were shot in the legs in Ballymagroarty two nights ago.
The two men, aged 25 and 26, were shot shortly after 8pm on Thursday night and were taken to Altnagelvin hospital for treatment for their injuries.
Following the shooting, Foyle Sinn Fein MLA Raymond McCartney said he believed elements linked to the INLA were responsible for the attack.
He challenged the political representatives of the INLA - which had previously announced an end to its armed campaign - to clarify the situation.
However a spokesperson for the IRSP in Derry said the INLA are no longer involved in "armed actions."