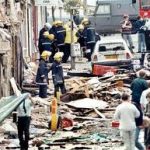 Two men have been found liable for the Omagh bombing following civil action brought by the families of some of the victims.
29 people including a woman pregnant with twins died in the blast in 1998.
No-one has ever been criminally convicted over the attack, but today relatives won their civil claim against Colm Murphy from County Louth and Seamus Daly from County Monaghan.
Neither man was at the High Court in Belfast to hear the 73 page judgement from Mr Justice John Gillen, who said both men had lied to the Gardai after their arrest, and that their failure to give evidence to the court strengthened the case against them.
The retrial followed the original Omagh bomb civil case, which is believed to be the first time anywhere in the world that alleged members of a terrorist organisation have been sued.
The first trial concluded in June 2009, when a judge ruled that four men - Real IRA leader Michael McKevitt, Liam Campbell, Colm Murphy and Seamus Daly - were all responsible for carrying out the atrocity.
However, the four men who were found liable subsequently launched appeals.
Michael McKevitt and Liam Campbell failed for have the civil judgement against them overturned two years later.
Colm Murphy and Seamus Daly were successful in upholding their appeals in July 2011, but the pair were then ordered to face a retrial of the civil case.