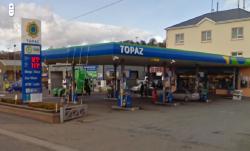 The owner of Tobins Petrol Station in Letterkenny says the decision to reward planning permission to Tesco Ireland for petrol pumps will result in job losses.
As revealed on Highland Radio News yesterday An Bord Pleanala upheld a controversial decision by Letterkenny Town Council to award planning permission for the pumps.
The plans include the demolition of a shed, to be replaced by a 4-island petrol filling station and a second exit out of Letterkenny Shopping Centre.
Eddie Tobin, who owns Tobins Garage on the Port Road says the decision will now result in job losses and jeopardise his business.....
[podcast]http://www.highlandradio.com/wp-content/uploads/2013/03/tobins.mp3[/podcast]