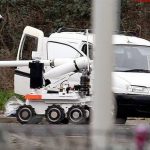 Two men have appeared at Derry Magistrates Court today accused of conspiring to cause explosions, possessing four mortars, a pipe bomb and  possessing of a van for terrorist purpose
35 year-old Seamus McLaughlin from Eastway in Creggan and 37 year-old Gary McDaid from Glenowen Park, Creggan were both remanded in custody.
There are reports of scuffles outside the court this morning involving police and supporters of the mortar bomb plot accused.
The PSNI said mass murder had been narrowly avoided, after the four mortars they believe were within minutes of being launched were intercepted.
The mortars, and mortar tubes were found inside a van with its roof cut off, which might have been an intended launchpad.
The Donegal-registered van, and a motorcycle that was following it, were stopped by Police near to the Donegal border at Foyle Road, in Derry, as part of an ongoing security operation into dissident republican activity.
100 homes in the area had to be evacuated on Sunday night.
More to follow...