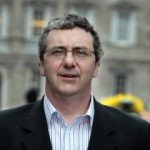 A Donegal South West Deputy has said that we shouldn't take it at face value that the Government will devise a replacement to the mobility allowance grant.
The Department of Health confirmed yesterday that it was axing the Mobility Allowance and Motorised Transport Grant with immediate effect.
But the Taoiseach Enda Kenny said work is underway to devise a replacement to the scheme.
But Deputy Thomas Pringle said he's wary of anything this Government says......
[podcast]http://www.highlandradio.com/wp-content/uploads/2013/02/tp830.mp3[/podcast]