The future of one of the State's most lucrative assets will be debated in the Dáil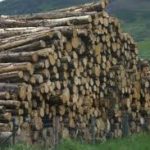 this evening.
Under the bailout programme, the government is planning to sell Coillte's harvesting rights for an estimated 600-million-euro.
A recent report found that under new owners, timber that's currently processed here could be exported for finishing abroad and result in job losses.
There is strong opposition in Donegal to plans to sell off 1,100 of state owned forestry land outside Ballybofey.
One of Donegal's leading foresters, John Jackson, is very clear in his views on the issues:
[podcast]http://www.highlandradio.com/wp-content/uploads/2013/01/jjack830FOREST.mp3[/podcast]