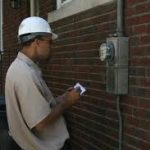 A BBC "Spotlight" programme will highlight how a number of Donegal businesses have been found to be stealing electricity
The programme has pulled together figures which show that 10 million euro worth of power is being stolen in the republic every year.
1700 people in the republic where found to be stealing electricity last year, 2000 people were caught in the North.
Tonight's Spotlight programme feature secret filming of a man who rigs meters in the north - producer Enda McClafferty says however the problem is island wide.
He spoke earlier on the Shaun Doherty Show:
[podcast]http://www.highlandradio.com/wp-content/uploads/2013/02/enda1pmELECTRICTY.mp3[/podcast]