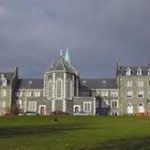 Dissident republicans have accused the PSNI of 'double standards and sectarian policing' after what they claim was a 'peaceful and dignified' white line protest was attacked by police officers.
The 32 County Sovereignty Movement said that a protest organised outside a Derry school because PSNI Chief Constable Matt Baggot was speaking there was attacked by members of the forces Tactical Support Group.
A spokesperson for the dissident republican group said the protest, outside Lumen Christi College where Matt Baggot was speaking was in response to the level of harassment being suffered by republican families in the Creggan area
Up to 50 assembled there and, according to the spokesperson, were quickly surrounded by PSNI officers in high visibility vests.
The group says they had hardly assembled when a heavily armed group of TSG men rushed out of the school grounds and proceeded to attack the protesters and push them off the road.
The spokesperson said some people were pushed up against railings and one woman was thrown over the railings.
In response the PSNI accepted they had moved protesters but said it was for safety reasons.
A spokesperson for the PSNI said the location of this initial protest was a concern to police given the flow of traffic and the dangers this presented to both protesters and motorists in the dark.
They added that "Anyone who has a complaint about police action should contact the Police Ombudsman."