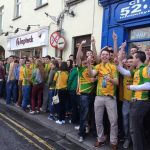 Gardaí have said there has been a highly visible policing presence in Galway today, with hundreds of students expected to converge on the city centre for "Donegal Day".
The event does not have the backing of either third level institution in the city or the students' unions at NUI Galway and GMIT.
Gardai have confirmed they have a larger than usual presence on the ground to monitor the situation in Glaway today.
Rag Week events at both colleges have been cancelled since 2011, when there were widespread disturbances.
Students queued to enter one city centre pub this morning and a large number of young people are walking around the city wearing Donegal GAA jerseys.
Gardaí are monitoring the situation and conducting spot-checks on licensed premises throughout today and this evening.