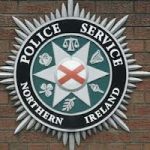 Police investigating the death of Constable Philippa Reynolds last week will revisit the scene today in an attempt to speak to potential witnesses and gather more information about the incident.
27 year old Constable Reynolds was killed when the driver of a stolen Toyota Land Cruiser drove into an unmarked police car at Dale's Corner in the Waterside.
Police stopped traffic and handed out leaflets on the Clooney Road junction, King Street Link, Limavady Road and Glendermott Road areas in the early hours of this morning, a week after the fatal crash.
Detective Inspector Mark McClarence who coordinated the exercise said police have received a great response from the public, and they remain anxious to speak to other witnesses who have not yet come forward.
They are particularly urging anyone who may have been in the area or saw the silver coloured Toyota Land Cruiser travelling between Fountain Hill and Dale's Corner between 3am and 3.30am on Saturday last the 9th of February to contact Strand Road station or call the Crimestoppers line.
Two men have already been charged in relation to Constable Philipa Reynolds' death.