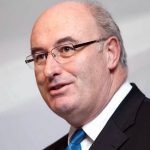 Letterkenny Mayor Dessie Larkin has launched a scathing attack on the Environment Minister, accusing him of playing parish pump politics with the reorganisation of local government structures.
This week, Phil Hogan told an Oireachtas committee that the National Spatial Strategy would be shelved and replaced with a new development model. he also pledged that towns which previously had town councils would be prioritised in future funding decisions.
However, Mayor Larkin says Phil Hogan has the Midas touch in reverse, and everything he touches turns to ruin. he's now fearful that Minister Hogan's home area will now prosper at the expense of Letterkenny and the North West.........
[podcast]http://www.highlandradio.com/wp-content/uploads/2013/02/dlark830.mp3[/podcast]