Donegal Senior Championship Final.
Glenswilly 1-8 v 0-9 St.Michael's                                             Photo Donegal Democrat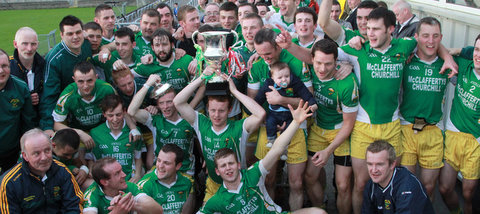 For the first time ever the Dr.Maguire Cup headed for the Hills of Glenswilly on Sunday evening following their two point win over St. Michael's in the county final in Ballybofey. The man of the match Michael Murphy scored 1-7 of the Glen men's 1-8 total. Murphy who scored the goal in the 42nd minutes hit three unanswered points in the final ten minutes to seal a first ever county title for the Glenswilly club.
Highland Radio's Gaa correspondent Tom Comack was busy getting reaction from the victorious Glenswilly side after the final whistle.
Michael Murphy
[podcast]http://www.highlandradio.com/wp-content/uploads/2011/10/03GS-MURPHY.mp3[/podcast]
Captain Gary Mc Fadden
[podcast]http://www.highlandradio.com/wp-content/uploads/2011/10/03GS-MCFADD.mp3[/podcast]
Joint Managers John Mc Ginley and Gary Mc Daid
[podcast]http://www.highlandradio.com/wp-content/uploads/2011/10/03GS-MANS.mp3[/podcast]
Gerard McGrenra
[podcast]http://www.highlandradio.com/wp-content/uploads/2011/10/03GS-MCGREN.mp3[/podcast]
John Pat Mc Daid
[podcast]http://www.highlandradio.com/wp-content/uploads/2011/10/03GS-MCDAID.mp3[/podcast]
Chairman Shay Farrell
[podcast]http://www.highlandradio.com/wp-content/uploads/2011/10/03GS-CHAIR.mp3[/podcast]