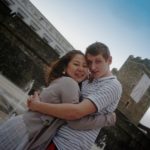 The PSNI has apologised after mistakenly arresting a couple on suspicion of a "sham marriage" for immigration purposes.
Neil McElwee and Yanan Sun, who is of Chinese origin, had just arrived at the Guildhall building in Derry on Tuesday when police arrived and detained all 40 guests.
Yanan is five months pregnant, after being released without charge, the couple went ahead with the wedding on Wednesday.
Police have apologised for any undue upset or distress.
Mr McElwee from Strabane, said that an apology simply isn't good enough...
[podcast]http://www.highlandradio.com/wp-content/uploads/2011/07/neil530.mp3[/podcast]