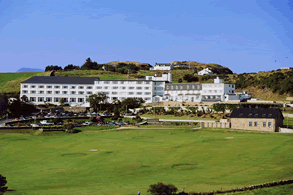 Receivers have been appointed to one of Donegals most popular hotels, the Shandon Hotel is up for sale for 1.5 million euros.
The four-star hotel which overlooks Marble Hill Strand and Sheephaven Bay in Port na Blagh, had a reciever appointed by Bank of Ireland in February.
The hotel formerly owned by Dermott and Catherine McGlade went on the market yesterday. The complex was once thought to be worth over 6 million euro.
Today esate agents Sherry FItzgerald Rainey put the hotel on the open market for a quarter of that price, Dermott Rainey said they were hopeful of a quick sale...
[podcast]http://www.highlandradio.com/wp-content/uploads/2011/06/derm530.mp3[/podcast]