The Swilly Ferry is back on the water - Th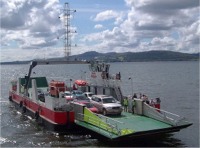 e service between Buncrana and Rathmullan will operate for the rest of the summer, but local politicians and tourism providers are concerned at the length of time it took to agree contract details and get the service running again.
Buncrana Mayor Cllr Nicholas Crossan says the discussions should be starting now, based on usage of the service over the summer.
He says a framework should be agreed before the budget meetings at the end of the year so that everyone knows wehere they stand well in advance of the 2012 season.
Cllr Crossan says this would also allow the service be promoted in brochures and websites while people are planning their holidays......
[podcast]http://www.highlandradio.com/wp-content/uploads/2011/06/ncross10.mp3[/podcast]