Drivers are being urged to respect the roads this weekend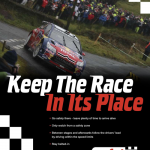 as the Topaz Donegal Rally celebrates it's 40th anniversary.
The Donegal Road Safety Working Group and the RSA have launched a campaign stressing the importance of road safety during the rally.
The campaign invloves ads on Highland Radio using the slogan 'keep the race in it's place'.
Road Safety Officer with Donegal County Council, Eamon Browne, has appealed to everyone following the rally to drive safe this weekend:
[podcast]http://www.highlandradio.com/wp-content/uploads/2011/06/ebro1pm.mp3[/podcast]