This Sunday the Donegal Ladies play Waterford in the All Ireland Intermediate Final at Croke Park.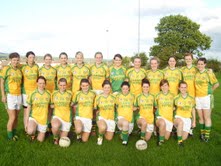 The county side are on the trophy trail again having already won the League and the Ulster championship in 2010. Sunday's game however will be the greatest achievement of them all. Donegal's only All Ireland victory was in 2003 at Junior level. Four of the current side was involved that year.
Highland's Gaa Correspondent Tom Comack has been speaking to a number of the players ahead Sunday's big final.
Midfielder Karen Guthrie
[podcast]http://www.highlandradio.com/wp-content/uploads/2010/09/GAAGuthrie.mp3[/podcast]
Donegal Captain Aoife Mc Donnell
[podcast]http://www.highlandradio.com/wp-content/uploads/2010/09/GAAMcDonnell.mp3[/podcast]
Forward Eilish Ward
[podcast]http://www.highlandradio.com/wp-content/uploads/2010/09/GAAWard.mp3[/podcast]