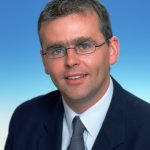 Fine Gael Deputy Joe McHugh has said the cutbacks in frontline staff and there impact on Donegal's frontline services have been underlined by the recent poor weather.
Deputy McHugh says the government inability to introduce reform while retaining essential services has been badly exposed as council staff tackle icy roads and burst water pipes.
He has praised their efforts in dealing with the problems, but says that it is clear that council cutbacks and the government's recruitment ban are impacting negatively.
Deputy McHugh says the situation needs to be reassessed: [podcast]http://www.highlandradio.com/wp-content/uploads/2009/12/20joe.mp3[/podcast]