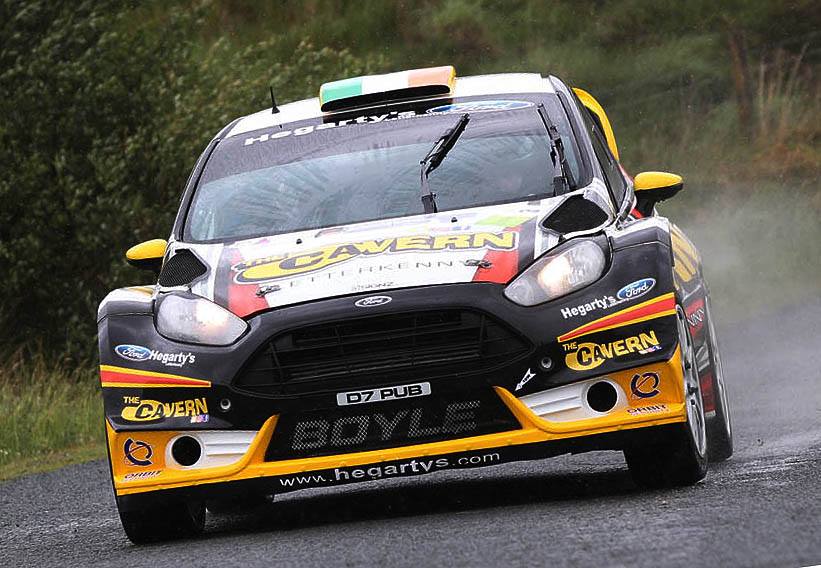 Sunday's Charlie McEnery Motor Services Clare Rally, the penultimate round of the Triton Showers National Rally Championship will have a major bearing on the destiny of the Vard Memorial Trophy.
The season long battle between former double champion Donegal's Declan Boyle and Monaghan's Josh Moffett, both in Ford Fiesta WRC's, has ratcheted up another notch with the former having the advantage. In an exciting round five in Sligo, both led at various stages only to crash out and leave Yeats county without gaining any additional Triton points.
Their demise promoted Donegal's Joe McGonigle into the lead of the series, a consistent run all season long has given him a haul of 79 points. However, he has chosen not to compete in Clare leaving it another Boyle and Moffett showdown. Whatever happens in Clare, the title will go to next month's final round, the Donegal Harvest Rally in Ballybofey.
Meanwhile, Cork driver Daniel Cronin (Ford Fiesta R5), who won last year's Clare Rally, is the top seed. The Ballylickey ace, younger brother of the four times British Rally Champion Keith, contested the recent Tipperary Stonethrowers Rally, the fourth round of the Triton series and on what was his first appearance in an R5 car in this year's Triton series, he finished sixth overall – behind five World Rally Cars.
For Boyle, seeded at number two, concentration will be key. To win the Triton series he needs to garner a total of 25 points from the two remaining events. The maximum score Josh Moffett can reach is 101 points – in mathematical terms, a fifth and a sixth place championship finish will suffice for Boyle, who is aiming to emulate Niall Maguire, the only driver to have won the national title on three occasions.
Having won the Valvoline Irish Forest Championship on the same weekend as his Sligo outing, Moffett is still in the hunt to win all three major championships in the one season – a feat achieved last year by his brother Sam, the winner of the last Triton round in Sligo.
Former champion Roy White (Fiesta WRC) returns after missing the Sligo Rally, he is eager to complete the series with some strong results. Cork's Daragh O'Riordan (Ford Fiesta WRC) – fifth in Tipperary will endeavour to be much closer to the Triton regulars in Clare where Monaghan's Niall Maguire (Subaru WRC) is another returnee to the series.
The top ten also includes series title sponsor Kevin Barrett (Subaru WRC), Louth's
Brendan Cumiskey (Skoda Fabia R5), Clare's Padraig Egan, who has yet to decide what car he will drive and Donegal's Stuart Darcy (Darrian T90 GTR).
For championship sponsor Kevin Barrett it will be a unique occasion, as the event features no fewer than four of the Barrett families. Kevin's son Paul is of course a Triton regular in his Vado liveried Mitsubishi EvoX and is seeded at No. 20. Kevin's brother Francis has acquired the Subaru WRC car that Donegal's Manus Kelly drove to a third successive Donegal International win and he will occupy the No. 35 berth in Clare. Meanwhile, Francis' son Ian is a late entry in his Darrian T90.
The race for success in the rally.ie award is also reaching an important juncture with Donegal's Stuart Darcy (Darrian) now just five points ahead of Cavan's Chris Armstrong (Ford Escort), who garnered fourteen points from Sligo where Darcy failed to finish. Both can count their scores from the last two rounds so, that too, looks like it will be a title decider in Donegal. Another Donegal driver Johnny Jordan (Toyota Starlet) third overall in Sligo is third in the category. Jordan will be followed off the Clare start line by Carlow's David Condell (Ford Escort) and Cork's David Guest (Skoda Fabia S2000).
Former Irish Tarmac Rally champion, Dubliner Gareth MacHale returns to rallying after an absence of six and a half years. His last outing was on the 2012 Galway International Rally. He will drive a Dom Buckley prepared right hand drive Ford Fiesta R5 and has intimated that he is also likely to compete in the Donegal Harvest Rally. "I'm just dipping my toes in the water so to speak, I just want to find out what the R5 car is like to drive and then we will see what happens." Gareth, who will be co-driven by Brian Murphy, is seeded at No. 16.
Others in the top twenty are Martyn England (Ford Fiesta R5+), Niall Moroney (Subaru WRC) and Group N contenders Trevor Bustard (Mitsubishi EvoIX) and the aforementioned Paul Barrett (Mitsubishi EvoX).
The quality entry in excess of 130 crews also features the Mk. 2 Escorts of Ed Synan, JF Shovelin, Sean Moran, Tim Enright, Johnny Treanor and James McCarville along with Michael Fitzgibbon (Honda Civic) and Keith Lyons (Ford Fiesta R5). Limerick native Declan Wilmott will campaign a Ford Focus WRC.