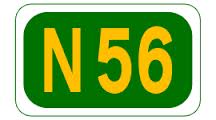 A Donegal County Councillor says work on the removal of the notorious Meenacarn Bends and now the Gweebarra Bends will be a huge improvement to the locality.
The west Donegal N56 works are part of an overall €70M project which includes cycle lanes along the route.
Phase 3 from Kilkenny to Letterlilly is out to tender with work due to begin before the end of the year at a cost of an estimated €12M.
Cllr. Enda Bonner says the works mean that it's not only a safer route but a more scenic one too: